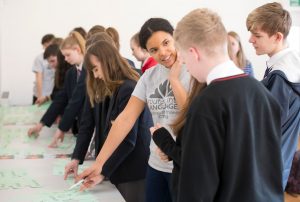 5 pupils from years 7-9 from Welsh maintained LEA secondary schools will be trained to lead the Pupil Language Ambassador scheme in their school.
The national training event will be delivered as a live session on the 2nd February 2022 (3.30pm-5.00pm) on Microsoft Teams. Routes Cymru will collaborate with 'Globe from Home' to deliver an interactive journey somewhere in the world (the exact destination will be kept as a top secret until the training!) where pupils will interact with local people, using their language skills to decode information and learn more about the history and culture of the country. We hope that this unique experience will inspire the pupils to create an exciting programme of activities in their schools to promote and increase the visibility of languages in the school and their wider community.
If you'd like your school to take part in the training, please complete the registration form below (PLEASE NOTE: this scheme is for LEA maintained secondary schools in Wales).
 Data protection notice: Please not that when registering, your data will be held in accordance with our Data Protection Notice. We will process the personal data you provide to us in accordance with data protection regulations.