National Spelling Bee Competition 2021-22
The Spelling Bee competition is designed to support pupils in year 7 who are studying French, German, Spanish and Welsh as a second language in English medium schools in Wales. The competition enables pupils to improve their spelling and vocabulary, encourages correct pronunciation and most importantly raises confidence levels. Different to a monolingual Spelling Bee, pupils in Wales have the option of receiving words in Welsh or English.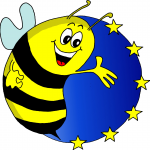 The competition consists of 4 stages or rounds with the number of words increasing with each round. This year all rounds will be organised at a school level, with a virtual award ceremony organised in the summer term 2022 by Routes Cymru.
If you'd like for your school to take part in the competition this year, please complete the registration form below.
Once registered please visit the dedicated Spelling Bee website where you'll be able to have access to resources required to run the competition in your school and includes:
Teacher User Guide
Word Lists
Certificates for each stage of the competition
Competition Computer Programme
Supporting Learning Games