Welsh National Spelling Bee Competition 2019/2020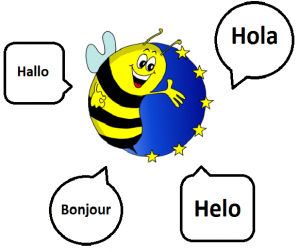 This annual event is designed to support students in year 7 who are studying French, German, Spanish and Welsh Second Language. The competition enables pupils to improve their spelling and vocabulary, encourages correct pronunciation and most importantly raises confidence levels. Different to a monolingual Spelling Bee, pupils in Wales have the option of receiving their words in English or Welsh.
Pupils compete in preliminary school rounds from September culminating in the Spelling Bee National Final at the end of the summer term. The National Final welcomes finalists from schools across Wales competing for the titles in the four languages.
 Spelling Bee Website
https://spellingbeecymru.co.uk/
This website provides access to the resources required to run the competition in your school, including:
Teacher's User Guide
Word Lists
Certificates for each stage of the competition
Competition Computer Programme (Spelling Bee)
Supporting Learning Games
Winners Submission Form Stages 1-3
Please click the relevant below to complete the winners submission form.
Teacher's Guide
User Manual for teachers 2019-20
Spelling Bee Timetable 2019/20
Term
No. of words to learn
No. Students progressing (per language)
Closing date for submissions
Stage 1 (Class)
Autumn
25

(Word list 1)

10 (per class)
20/12/2019
Stage 2 (School 1)
Spring
50

(Word list 1 +2)

5 (from school)
28/2/2020
Stage 3 (School final)
Spring/

Summer

75

(Word list 1 +2 +3)

2 (from school)
15/5/2020
Stage 4 (National final)
Summer
100

(Word list 1+2+3+4)

Spelling Bee champions announced
**The final has been cancelled**
Photo and Video Gallery