The Pupil Language Ambassadors (PLAs) scheme is targeted at pupils in years 7-9 in LEA maintained secondary schools in Wales. These pupils are chosen by their teachers to lead the campaign of raising the profile and promoting the value of studying languages among their school community in partnership with the Modern Languages Department and are trained by Routes Cymru. 
Register your school here to take part in the Pupil Language Ambassador (PLA) scheme 2023 – 2024.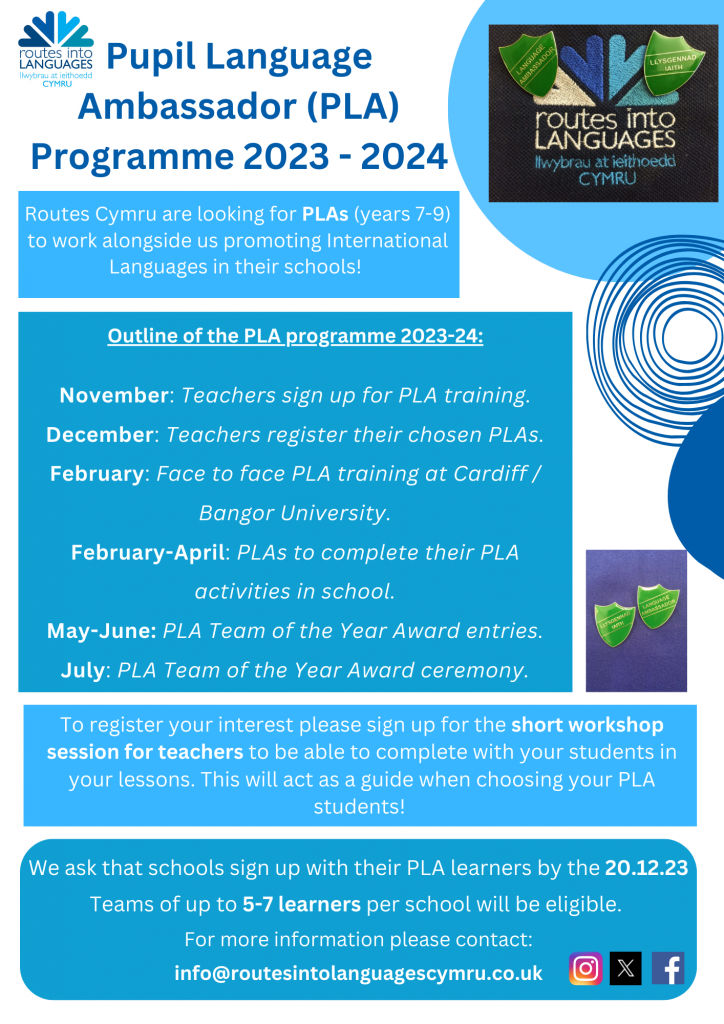 Main purpose of the role
Support the languages department to:
Raise the profile of languages among pupils, staff and the wider community
Share information about the importance of modern language skills for work and life
Encourage fellow pupils to continue studying modern languages.
Key responsibilities and duties
Support the languages department to organise a series of events
Present information in classes / assemblies
Create specific displays in school and for events such as careers fairs, open days and parents' evenings
Share news of your work with the whole school community and Routes Cymru.
Pupil Language Ambassadors – benefits for the school
Increase in the awareness of pupils of the importance of studying languages
Increase in the profile of the languages department in the school
Increase in number of pupils choosing to study languages
Enthusiastic pupils.
Pupil Language Ambassadors – personal benefits for pupils
Development of effective communication skills
Opportunities to lead and play different roles in a team
Use of digital technologies
Opportunities to think creatively to solve problems and come up with innovative ideas to promote languages in the school.
Requirements
A passion for languages – A Pupil Language Ambassadors should possess a great enthusiasm for studying languages.