Our Student Language Ambassadors are back!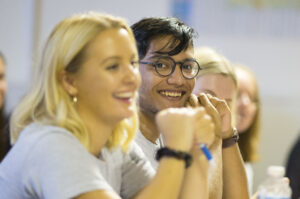 Later this term we will be training a new cohort of undergraduate language students at universities in Wales. From November 2023, our new Student Language Ambassadors will be available to deliver sessions for primary and secondary schools.  
Routes Cymru Student Language Ambassadors (SLAs) are current students in Welsh universities who are studying a range of courses along with modern languages. Our SLAs are trained to deliver presentations on their personal language journeys, as well as sessions on the wide variety of skills and pathways that are available to pupils when learning a new language. They will also be able to offer language taster sessions in their chosen language.  
We kindly ask that you submit requests for SLA sessions by the 17/11/23. This will allow us to ensure that your requests are processed in time for a session during the autumn term.   
A second date will later be released in the year for SLA requests during the spring term.
If you have any further questions regarding SLA sessions, please don't hesitate to get in touch.
To request an SLA session, please complete the form below: 
PLEASE NOTE: This support is for schools in Wales only and our Ambassadors will only be available during their university term dates.
Data protection notice: Please not that when registering, your data will be held in accordance with our Data Protection Notice. We will process the personal data you provide to us in accordance with data protection regulations.
Please contact us directly if you'd like more information about the Student Language Ambassador scheme: info@routesintolanguagescymru.co.uk
---