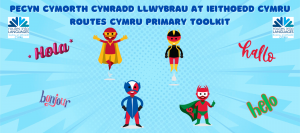 To support the delivery of International Languages in the New Curriculum for Wales, Routes Cymru has developed a Primary Toolkit to support primary teachers with language delivery. The toolkit is available in French, Spanish and German and includes six contexts of learning that will instill in primary learners the joy, creativity and fun of language learning. If you'd like to receive a copy of the primary toolkit please complete the form below.
"Introducing international languages at primary school is one of the exciting elements of our new curriculum. It will expand the teaching of international languages exponentially and generate a real momentum and love of languages from primary through to secondary school. The Routes Cymru bilingual Toolkit is currently available for French, German and Spanish, supports our vision of celebrating language and culture set out in the Languages, Literacy and Communication Area of Learning and Experience. Embracing a bilingual Wales in an international context.

The toolkit will provide exciting opportunities to develop language rich environments and provision across Wales and help develop the learners of the future – our language superheroes!". Jeremy Miles AS, Minister for Education and the Welsh Language
Read about the official launch of the Routes Cymru Primary Toolkit here.
Data protection notice: Please not that when registering, your data will be held in accordance with our Data Protection Notice. We will process the personal data you provide to us in accordance with data protection regulations.
If you'd like resources for Mandarin please contact: Chinese in schools – Cardiff Confucius Institute – Cardiff University
For Italian resources, please contact g.donzelli@swansea.ac.uk
Please sign up to our Mailing List, follow us on Twitter, or visit our Facebook page to get updates and further information