!Hola y Buenos días! Bon Dia! Hello!
Welcome to my latest blog post, in this instalment I'll be discussing the different forms of entertainment and leisure you can take part in on your year abroad. A lot of the activities you already do in the UK are accessible and available abroad too! Its also a good opportunity to try some new ones too. In Valencia there are various things you can do, which aren't so common in the UK. These range from exploring the regular Spanish cultural festivals on offer, such as 'Las Fallas' 'La Tomatina' and 'La semana santa'. Furthermore, its very commonplace to go out to dinner with friends or go to a bar and relax. As ever, the words highlighted in bold. See if you can remember their meaning without looking at the definition!
The national sport of Spain is football. Go to any bar in Spain and you will find it being discussed and enjoyed amongst friends and family alike. As such there are always teams which you can join. In Valencia there are a few different universities that students from all over the world attend, even though I don't attend the university I have been able to play football regularly with fellow students at the university owned pitches. Being able to exercise and socialise with other students has made settling in to a new country much easier. It's a great opportunity to practice Spanish too as Its often the common language for students studying here. As Valencia is Spain's third largest city, there are lots of gyms available for people living here to use. They also often have classes on offer for members to take, they can also be included in the cost of membership. Moreover, they will be largely populated by local people giving you another opportunity to practice Spanish with local people! You will often find that language (particularly with regards to football) is used in a different way to everyday life, much like it is in English. I have found that playing football with Spanish people has meant I've learned a whole new way to use Spanish. Words such as tirar (to shoot) pasar (to pass) estoy (I'm here, from the verb estar) and marcar (to score) are used as commands and in different ways to day to day Spanish.
Despues de un partido en la Universidad Valenciana 
As I mentioned previously, the food in Spain is different to that of the UK and also the dinner etiquette varies too. In Spain it is common to sit at the table before and after ordering/ eating your food, the atmosphere in restaurants tends to be more relaxed. In Spanish there is even a word for after dinner chat: sobremesa (literally 'above table'). Moreover, if you order drinks in Spain you will most likely receive some food with it too, this is tapas and its one of the most well-known aspects of Spanish cuisine. In Valencia specifically Paella is found in most restaurants, it's the specialist dish of la comunidad valenciana. Paella is served in large dishes and is typically shared with at least one other person (normally three or four though). Going out with friends for paella is one of the most common leisure activities here in Valencia. There are, however, many different forms of paella; see if you can look up the definition of this Spanish recipe below: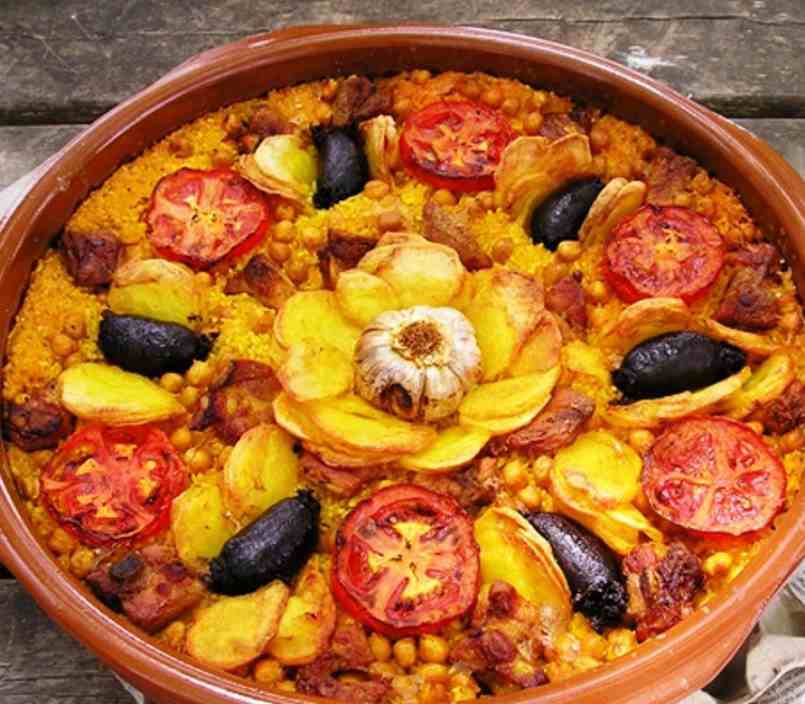 Arroz al horno                                                              Paella Valenciana 
400 gramos de Arroz Bomba
1 Kg. de pollo troceado
500 gramos de conejo troceado
200 gramos de judías verdes
100 gramos de garrofó fresco
100 gramos de tomate troceado
6 cucharadas de aceite de oliva
Unas hebras de azafrán
Pimentón rojo molido
Una ramita de romero
Sal
Este es paella Valenciana, lo más famosa y tipica de españa y la comunidad valenciana.
(the translation can be found at the bottom of the blog!)
En Valencia hay muchos lugares que se puede explorar y descubrir (to discover). Por ejemplo, la ciudad de las artes y las cienciases una atracción turistica muy popular y famosa. Además, la catedral de Valencia reclama (to claim) que tiene el Santo Grial (the Holy Grail). Es importante decir que hay doce iglesias en España que reclaman poseer el Santo Grial. En la Comunidad Valenciana hay muchas montañas y pueblos donde se puede disfrutar la cultura valenciana (the Valencian culture). Si te gusta probar la comida española se puede viajar a muchos pueblos valencianos (afurea de la ciudad). Un plato muy típico es patatas bravas (patatas con salsa brava y alioli) pero otros ejemplos son arroz al horno (literally 'oven rice', a similar dish to paella and very typical of Valencia). Sobre todo, salir a cenar con amigos es un pasatiempo muy común.
Vocabulary:
Tirar-
Pasar-
Estoy-
Marcar-
Sobremesa-
Descubrir-
Reclamar-
La cultura Valenciana-
arroz al horno- 
400 grams of 'bomba' rice
1 kg of sliced chicken
500 grams of sliced rabbit
200 grams of green beans
100 grams of lima beans
100 grams of sliced tomato
6 tea spoons of olive oil
Saffron
Ground red pepper
A twig of rosemary
Salt
Gracias por leer! En la próxima hablaré de la salud! Hasta lugo!
Jacob